Investigation of historic giant camellias and their protection in Goto islands
Chuji Hiruki, Japan
The Goto Camellia Society
2873-1 Kami-ozu-cho, Goto-shi, Nagasaki-ken, Japan 853-0013
E-mail:chujihiruki@aol.com
1st published in the International Camellia Society's journal of 2011
Introduction
The Goto islands are historically known as islands of camellias. A unique feature of the Goto islands is that people have lived among camellia trees and they have developed a kind of symbiosis with them. Camellias are not only admired for their beautiful flowers like Tama-no-ura but also their oil from seeds is utilized in many ways including cooking, hair-oil, and daily health care treatments. Thus, protection of historic camellias in the Goto Archipelago has a much wider connotation in their protection than mere preservation of camellias with beautiful flowers. In this paper the unique features of historic camellias in Goto are studied in order to help in the development of useful measures for future protection.
Unique characteristics of Goto islands
Historic records
Goto is well known as the last port in Japan that was used for the cultural mission known as Kentoshi (State Mission for China during AD 776-862). Frequent contacts with Chinese culture evidently benefited Japan. Technology for camellia oil production reached Dazaifu, the location of the western head-office of the national government near Fukuoka during this period. In Goto, camellia seeds preserved since Jomon-era (BC3,000 - BC300)
have been excavated, an indication of very early utilization of camellia seeds and possibly its products in this area.
Cultural features
Goto is well known as one of the earliest areas where Christianity was introduced to Japan in the 16th century and is known for the survival of hidden Christians. Many historic churches are scattered in different parts of islands. Many of them are decorated with camellias, a significant symbol for their spiritual strength.
Natural environment
Goto is characterized by its mild climate, due to the Tsushima warm current which yields ideal environmental conditions for the growth of camellias.
Geographic features
The Goto islands are the westernmost islands in Japan, which means the nearest to many areas in Southeast Asia. Goto has served as the outpost of the main Japanese islands, often exposed to the vanguard of new ideas from the West.
Distribution of old historic camellias in Goto
Goto means five islands and is divided into two municipalities; Goto-shi and Shinkamigoto-cho, each having its own comprehensive program on camellia conservation and utilization.
Goto-shi consists of three main islands and other small islands, and a recent survey has revealed that there are 4,260,000 wild camellia trees (Camellia japonica, yabu-tsubaki) growing in its municipal territory.
Although a similar survey has not been completed in Shinkamigoto-cho, it is easily assumed that at least 3,000,000 wild camellia trees exist there. Therefore, it is not an overstatement that these are truly the islands of camellias.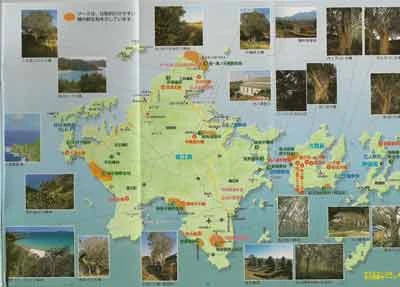 Figure 1 shows the locations of main camellia forests and of old historic camellia trees in the territory of Goto-shi. Sixteen major wild camellia (Yabu-tsubaki) forests have been located in the Goto-shi area. The best area for observing undisturbed ecological conditions of wild camellia forests, which cover a vast area from seashore to the top of hills, can be seen in the Osezaki cape area, which is a part of the Saikai National Park.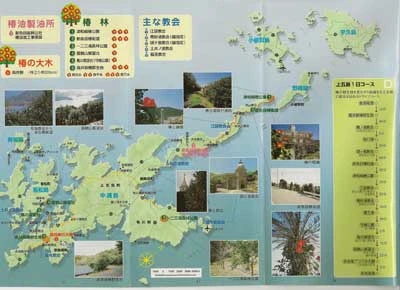 Similarly Figure 2 is a map showing six major camellia forests and the location of old historic camellia trees in Shinkamigoto-cho. The best forest of wild camellia in this area is located at the tip of Tsuwazaki peninsula where it is possible to observe wild camellia trees which have been preserved and managed very well by both the municipality and citizens' volunteer groups for harvesting seeds for oil extraction.
Old historic camellias in Goto
There are 20 old historic camellia trees located in different areas in Goto-shi. They are estimated to be about 300 to 400 years old. Their trunk circumference at one meter from the ground ranges from 152 cm to 255 cm. In this paper only three representative cases were selected for presentation.
1. Osako camellia trees (Natural monument of Nagasaki Prefecture)
Four old camellia trees in the Osako area were recognized as a natural monument of Nagasaki Prefecture in 1967. However, two camellia trees from this group were lost since then due to typhoon damages (Figure 3). Originally these trees served as windbreak for a farmer's house. The trees produced abundant seeds for oil extraction. The owner of the trees stated that at the prime time of trees when they were very productive, it was not uncommon that each tree yielded about 180L of seeds (camellia seeds are often sold locally by their volume). It used to be a great help as an extra-income for their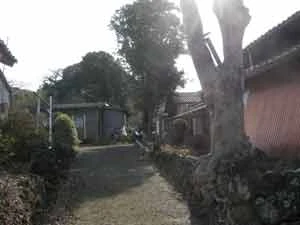 Figure 3. Osako camellias, a natural monument of Nagasaki Prefecture.
household finance as camellia oil is very expensive. Since the designation of the trees as a natural monument, they became very famous as a target for tourism. Later, the area was paved for convenience of visitors by the municipal government. Tree vigor has declined since then.
2. Hoso-goryo camellia
This camellia tree is located in Hama-machi, Goto-shi near Kozushi beach (Figure 4). It was found by the land-owner during reclamation work of the land. At present the area is one of the centers for tourism in Goto-shi. Many thousands of visitors enjoy cherry blossom in spring, swimming from a nearby beach with white sand and pristine water in summer. In autumn and winter, the area is full of wild camellias in bloom on the ground near the beach, it is one of the major wild camellia forests in Goto.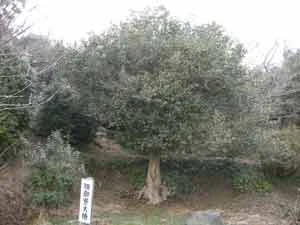 The old historic camellia tree was named after a noble lady famous in Goto history. Her father was the first Christian nobleman ruling the entire islands of Goto in the 16th century. However, he passed away after ruling Goto for only nine years due to poor health. She grew to a fine lady and was said to be the most beautiful woman in the whole Kyushu area. Later she married one of the relatives of the feudal lord who became a deputy lord. The rumor of her beauty reached Toyotomi Hideyoshi, the ruler of entire Japan at that time. He was interested in summoning beautiful ladies around him for service. His order was dispatched to Goto. Impossible to refuse such an irrefragable order, she had to depart Goto to meet Hideyoshi. However, she killed herself upon reaching her destination, to remain in love with her husband. Her grave has been kept prominently in Goto until today. This camellia tree corresponds to Taiko (Toyotomi Hideyoshi) tsubaki at Genkai Power Station in Saga Prefecture shown in page 22 of the International Camellia Journal (2008).
3. Virgin Maria camellia
Afraid of the popularity of Christianity and strong influences of foreign missionaries on the general public in Japan, Toyotomi Hideyoshi announced the total prohibition of missionary work in 1587.
Unable to continue their religious work in the main island of Kyushu, many Christian farmers and fishermen emigrated to Goto. Approximately 3,000 people found their way to various parts of Goto to settle and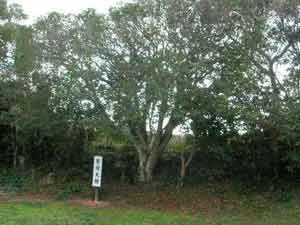 continue their religion as hidden Christians. The Miiraku area had wide open and uncultivated land due to the lack of agricultural water. The main staple food in Japan is rice. Rice cultivation requires a plentiful supply of water or a good irrigation system. Furthermore, the area is known for strong winds all year round. Only such poor land was available to newcomers. However, thanks to the hard work of early Christian farmers, this area today is known for its well-maintained camellia windbreaks. The oldest camellia is named in commemoration of the strong Christian background in this area. Every year tours are organized to pay our respects to the historic Virgin Maria camellia.
Suggested improvements for the preservation of the old historic camellia trees
It is amazing to see that camellia trees are so durable and still growing in harsh conditions such as accumulated rocks and concrete pavements.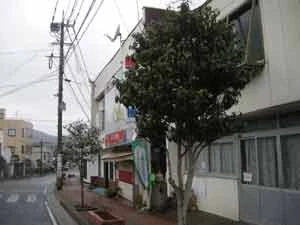 There is no doubt that these poor conditions weakened the trees making them unable to resist the strength of typhoons, in other words, trees fall not simply by the force of typhoons but as the result of compounded adverse effects. Therefore, the preservation of valuable old historic trees must depend on improvements in their management. The current conditions of trees with relatively small canopies suggest that ground conditions are rather poor for root development, limiting the vigor of the trees. Instead of paving the immediate area surrounding the trees, soil improvement with additional top-soil together with a proper supply of water, air and nutrients would encourage root activity, resulting in renewed growth of shoots in the following years.
With regard to Hoso-goryo camellia and Virgin Maria camellia, close access by visitors to the trees is not limited at present. As the number of visitors increases, the ground will probably become firmed, resulting in the retardation of root activity of the trees. It is recommended that access to the trees be limited to at least a few meters in radius from the trees so as not to hamper normal new root development. To encourage renewed growth of roots and shoots, the ground area under canopies should be kept free of weeds and a proper supply of water, air and nutrient must be maintained.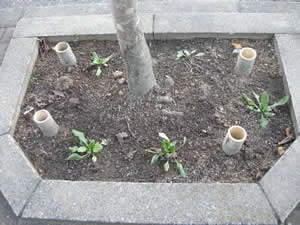 Figure 7. Simple irrigation by means of bamboo tubes
The images above show the effects of differences in management practices in two camellia trees planted in the pavement in a street of Goto-shi. The camellia tree in front received water twice a week for two years through bamboo pipes in the four corners surrounding the tree (Figure 7). The next tree in the background served as a control without additional supply of water, but left under natural condition and was exposed to natural rainfalls. It is obvious that regular care makes a significant difference in camellia growth from this small experiment. The same treatment was replicated using different trees, obtaining the similar results.
Conclusion
In the Goto area, preservation and protection of old historic camellia trees are closely related to the old custom of the production and utilization of camellia oil. Camellia tree stands have also served to protect important agricultural crops and homesteads from frequent typhoons in summer and harsh northern winds from Siberia in winter. Historically speaking, camellia and man have established a mutually beneficial, symbiotic relationship in Goto. However, local people are used to care-free maintenance of camellia trees mainly due to climatic conditions favorable to their growth, neglecting necessary care for the health of old camellia trees. Current conditions should be improved by careful attention to modern horticultural practices and technology with proper understanding of the physiology, pathology, and genetics of camellias.
In the preservation and protection of valuable specimens of old historic camellia trees, there are many aspects one should consider. For example, nomenclature and identification of a given specimen is one of the basic problems. In addition, human aspects cannot be overlooked. People's positive attitude toward preserving and protecting valuable specimens often plays a significant role for the success of the program. There are also other technological aspects we must consider in the maintenance of the valuable, monumental specimens.
One cannot apply all the effective measures at once in our practical work. However, international cooperation among volunteers from different regions of the world will definitely help to advance our continued efforts toward a common goal of protecting important historic camellias.