Showing Camellias in Cornwall

Pat and Jo Bucknell
Firstly, a little history of our garden. My husband Peter and I moved to our house, Botallick, in 1993 when we bought the ffarmhouse, barns and 14 acres of land. It had been a working farm with very little garden. The main plants were two large Cornish Red rhododendrons and some hydrangeas.
We were very keen to establish a 'Cornish Garden' with rhododendrons, camellias and magnolias but we also wanted other trees and shrubs to give colour all year round. Planting started around the house and as our interest grew, more areas were planted. We purchased another three acres in 1996 and now the garden extends to about four acres. There is also an orchard with over fifty varieties of Cornish and Tamar Valley apples together with cherries, pears, plums and damsons.
Our daughter Jo, her husband Ian and their two sons moved from Tunbridge Wells to Cornwall three years ago and live in the main house while Peter and I have converted a small barn for ourselves. We share the garden and maintain it as a family.
Now for showing camellias and the way that Jo and I work. Jo successfully entered the Novice Classes at Boconnoc in 2014 and then became an avid competitor. We now work together and enter under the name of the garden.
We read through the Schedule and decide which classes we would like to enter and walk around the garden to see which varieties are in flower. It varies from season to season and sometimes early varieties are late and others are out before we expect them. While it took me years to be familiar with which varieties were classed as williamsii and which were japonicas, as I just planted them for their blooms, Jo learned in the space of a year which ones were eligible for the different classes.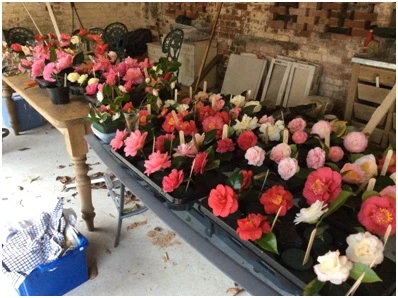 Blooms ready for selection on the table in the barn
We send in our entry form and the fun begins. The beginning of the week before the Show we mock up the classes on the large table in our open bay barn, setting out each class with the number of small glasses required and a label saying which class it is and what we need for it e.g. three semi-double japonicas. We also fill them with water ready for picking.
We watch the weather forecasts and about three days before the show we pick our first blooms, in class order if possible. This is only a guide to see which varieties we have in good condition and to balance the colours. Each bloom is labelled using wooden lollipop sticks with the class number on one side and the variety on the other. Over the next two days we refine our choices and this depends on availability, the weather and the season.
As far as possible we get our travelling containers ready. We use the black plastic plant pot trays with an oasis in each compartment, which we soak. Each tray is labelled using the lollipop sticks with the class number and a description of the class e.g. Three semi-double japonicas.
As late as possible the day before the show we carefully pick the blooms choosing the ones we would like to exhibit. We then place them in the oasis compartment, each bloom labelled with the variety. The white ones are picked last. We also pick spares for each class as it is not uncommon to get to the show and blemishes appear or heads have fallen off!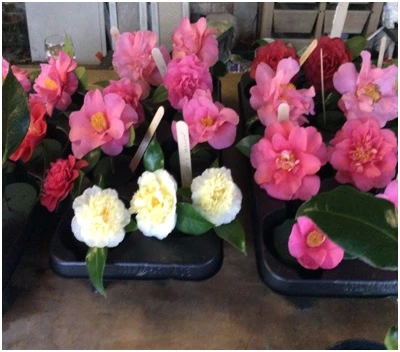 Choosing blooms for each class
As we enter the competitions at Rosemoor and Boconnoc we travel up the afternoon before to set up our glasses, fill them with water and put a temporary name card beside each glass. Some of the names invariably have to be changed on the day.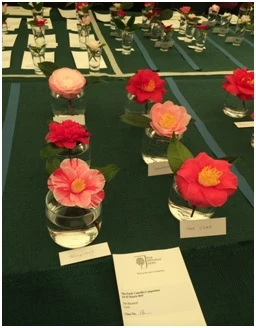 Camellias arranged to catch the judge's eye
Rosemoor 2015
At the crack of dawn on Show day the exhibits are scrutinised and substitutes are picked where required. The trays are loaded into the car not forgetting to take spare blooms, schedules, copy of the entry form, secateurs etc. and we set off.
Hopefully our preparations will pay off when we arrive at the Show with the excitement of greeting old friends and fellow competitors. The time for staging is limited so having the trays in class order means we can bring in one tray at a time and completely stage each class with blooms and official name cards in place.
Having completed all our entries, hopefully there is time to scrutinise each class again to see if we need to substitute any of the blooms. As I mentioned before heads fall off as soon as you turn your back! If we are satisfied that we have done our best it is time to head for a coffee while the Judges deliberate and hopefully we return to see some prize cards against our name.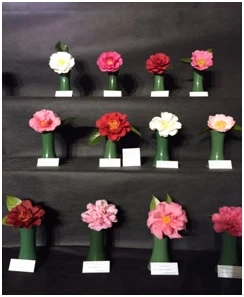 Twelve different camellias
Boconnoc 2015