Pazo de Rubianes: a project in search of sustainability
Hermo Gómez G.
Pazo de Rubianes, Rúa do Pazo 7 Rubianes, Vilagarcía de Arousa, 36619 Pontevedra, Spain. E-mail: guillermo@pazoderubianes.com
Aims of this presentation
The three main aims of the presentation are:
Let people know about Galicia´s great botanical, architectural, historical and cultural heritage to be found in pazos
To convey the need to find activities that will ensure their sustainability and guarantee their future.
To highlight the fact that Pazos are a great tourist attraction all-year-round differentiating tourist attraction. Tourist activity should be one the main resources to guarantee their sustainability.
What tourist activity provides for Galician Pazos:
Broadcasting and promotion of an important Galician heritage.
Promotion of Galician Botanical and Architectural Culture.
Increase of environmental awareness and respect for nature
A totally compatible activity with this heritage.
What pazos offer their visitors:
History of Galicia.
The amazing world of botany, in many cases with the camellia at the forefront.
Galcian Art and architecture
Natural environments of outstanding beauty and great environmental value.
The camellia is the differentiating element of a Galician tourist product which is unique both in Spain and Europe: The Route of the Galician Camellia and Gardens.
Pazo de Rubianes, the founders of Villa de García - Villagarcía. (D. García Caamaño, Señor de Rubianes 1.431).
Pazo de Rubianes and sustainability:
Economic sustainability.
Environmental sustainability
Historical, cultural and social sustainability.
Creation of tourist product: Pazo de Rubianes:
The route of the camellia.
The route of Rías Baixas wine.
The route of the camellia and historical gardens of Galicia:
It is one of the best defined routes in Galicia.
Has great potential tourist attraction for visitors of mid to high level.
It is perfectly complemented with other products and is the perfect match for the Route of Rías Baixas Wine.
Behind the Route there is very important work carried out: Diputación de Pontevedra, Xunta de Galicia, garden owners, camellia fans and lovers and the professional tourist sector.
The basis of our action in the tourist sector:
Hard work.
Involvement and commitment.
Coordination and cooperation.
Encourage botanical culture in Galicia and Spain.
The guided tour
Live the Pazo de Rubianes experience.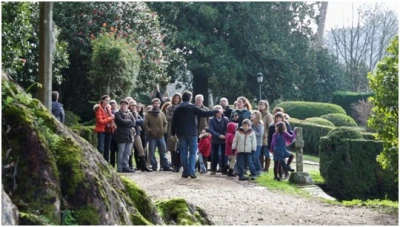 Walk among camellias and vineyards
Why the guided tour?
We accompany our visitors in order to make them a part of our project and share a passion with us
It is the best way to convey the essence of the project
Continuous interaction with the group
Knowledge of what visitors expects, key to reach full satisfaction
What Pazo de Rubianes offers our visitors
Today:

Galician history and architecture
Route of the camellia and the historical gardens of Galicia
Botanical park.
Wine tourism. Route of Rías Baixas wine.
Golf course

In the near future:

Club house with restaurant and beautiful views.
Trekking routes.
Padel court1 and swimming pool.
MTB2
Etc…
1 Small enclosed tennis-type court
2 Mountain bikes

The products of Pazo de Rubianes
Wine bottles, handmade jewellery and
camellia oil from Pazo de Rubianes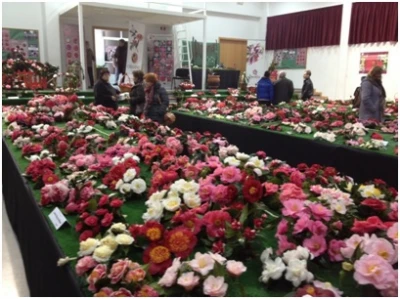 The camellia shows
Botanical park of Pazo de Rubianes.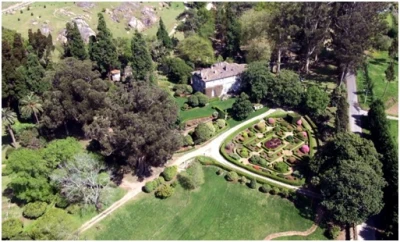 Candidate to garden of international camellia excellence.
Galicia 2014.
The vineyards and the Pazo de Rubianes wines, the perfect match with the camellia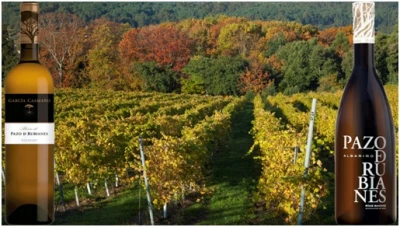 The wine which is born among camellias