Parque da Pena

Garden Overview
The Park and Palace of Pena are the result of King Ferdinand II's creative genius and the greatest expression of 19th-century romanticism in Portugal. The park consists of a forest and luxuriant gardens with over five hundred different species of trees originating from the four corners of the earth.
Camellias were introduced into these gardens in the 1840s, purchased from the best nurseries in France, Belgium and Italy, and even Chinese varieties were imported via England. Later, these collections were enlarged through the addition of varieties produced in Portugal, especially in the region around the city of Porto.

Our Camellias
The Park of Pena was created as a total work of art (Gesamtkunstwerk), resulting in a place where visitors are frequently surprised to find themselves amid a scenery so intensely luxuriant and dramatic as to be worthy of a Wagnerian Opera.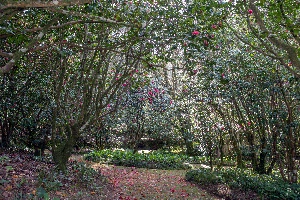 Although the Camellia genus was already used as an ornamental plant in several places, the unique collection of Portuguese varieties was concentrated in four main garden areas: the Garden of the Camellias (or Garden of the Friars), the Garden of Queen Amelia, the Garden of the Countess of Edla and the Tea Hill.
In the region of Sintra, ideal conditions exist for the growth of Camellias: acidic soil, a mild climate and frequent rainfall. For this reason, as soon as the landscaping of the park began, very good European plant growers supplied and sold a remarkable variety and quantity of camellias to king Ferdinand II. Among these suppliers, the Marques Loureiro nurseries (in Porto) particularly distinguished themselves in the homage that they paid to the king and the Portuguese Royal Family, by developing a series of camellias bearing royal titles: 'Dona Maria II, Rainha de Portugal' (1865, cherry red), 'Dona Maria Pia, Rainha de Portugal' (virginal white with crimson stripes), 'Princeza Dona Amelia' (1865, pure white), 'Princeza Real' (1865, cherry red speckled with white), 'Dom Carlos Fernando (Príncipe Real)' (1865, delicate pink), 'Infante Dom Augusto' (1865, pink with white stripes), 'Dom Pedro V, Rei de Portugal' (1872, pure white, with pink specks and stripes), 'Dom Pedro, Imperador do Brasil' (1865, white, with crimson stripes and specks) and 'Condessa d'Edla' (1872, pure white).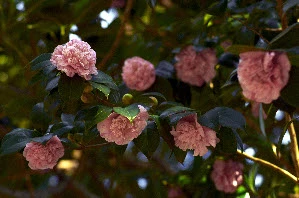 These collections are currently undergoing study, classification and replanting, so as to underline their position as the most important collection of camellias in the south of Portugal.
Currently the collection includes a total of 2,258 camellias distributed between four species (Camellia japonica L., Camellia reticulata Lindl., Camellia sasanqua Thunb., Camellia sinensis (L.) Kuntze). Of all the camellias, 285 specimens have been classified into 204 different cultivars.
The camellia collection is fully mapped and its survey is constantly updated and stored on a GIS database, containing, for each specimen, an identification bar code, the botanical species, the cultivar, the geographical location in the park, and the provenance of the species and or cultivar (the original habitat and country of cultivar hybridisation).
Contact Details
Parques de Sintra – Monte da Lua
Parque de Monserrate, 2710-405 Sintra
Tel: +351 21 923 73 00
Email: info@parquesdesintra.pt
Websites:
www.parquesdesintra.pt/
http://www.parquesdesintra.pt/parques-jardins-e-monumentos/parque-e-palacio-nacional-da-pena/
www.facebook.com/parquesdesintra