La Saleta
Garden Overview
La Saleta Garden was first bought by Margaret and Robert Gimson, a British couple who created in 1968 an English garden. During the first years, they tried to acclimatize plants from all over the world, mixing indigenous trees and other exotic varieties coming from Australia, New Zealand, South Africa, South America, and also from the eastern countries, thus creating a real botanic garden which made them very popular in this field. All these plants were identified and classified with the name of the genus, species and cultivar.
When Robert Gimson passed away, the estate was divided and sold. In 1996, the piece of land including the old house, with an area of 2 hectares, was sold to the Rodríguez Colada's family, who restored the 18th century run-down pazo (Galician manor house) and the chapel. This family looked after the plants already existing in the garden and they also introduced new specimens and they opened the garden to the public.
In the garden, a real wood crossed by paths, there are several species of the genera Protea, Leucospermum and Leptospermum, among others; an indigenous forest of Quercus, Pinus and Castanea; the cactus area; and areas with Camellia sasanqua, C. reticulata, C.x williamsii, Camellia species and Rhododendron. More than 500 plant Genus belonging to 130 different Families and more than 800 species are growing in this garden. It's a real botanical garden where species that do not exist anywhere else in Europe are preserved.
Since 2014 the Pazo of La Saleta has been the permanent residence of the family, and this affected the garden itself, which has changed from being a space to be visited to a garden to be cared for and enjoyed every day.


Our Camellias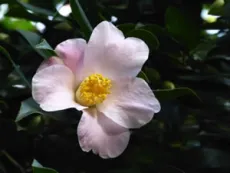 In this place, Camellia is a very representative Genus, with more than 300 specimens, belonging to 30 species, with more than 200 cultivars and about 50 hybrids. Specimens of C. reticulata, C.x williamsii and C. sasanqua stand out.
There are differentiated areas with camellia species, hybrids, reticulates and sasanquas. A new area with camellias originated in Spain are located at the native forest.
The camellia collection has more than 120 cultivars of C. japonica, about 34 cultivars of C. hybrid, of wich 20 are williamsii, 23 cultivars of C. reticulata, and a large number of sasanquas, almost all of them originated by seeds from oldest specimens, wich were planted by Robert Gimson at the end of XX century.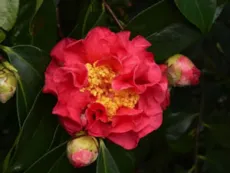 Several camellia events held at the Pazo de La Saleta as the Celebration of Saint Valentine's Day with camellia 'Valentine's Day', an annual Poetry Contest "Our muse, the camellia", an exhibition of jewelry and other pieces inspired by the camellia and presentation of a line of clothing with the camellia as the main motif,
The garden has been included in the Camellia Route of Galicia since 2006, a tourism trail that included twelve gardens to promote the camellia as a distinctive tourism product for the northwest region of Spain. This route was created by the Xunta de Galicia through a joint effort with the Spanish Camellia Society and the Areeiro Phytopathological Station (Pontevedra Provincial Council), under the supervision of the Turismo de Galicia (Galician Tourist Board).


Contact Details
La Saleta
Sobreira, 2. 36637 Meis. Pontevedra. SPAIN.
Tel: (+34) 629 81 68 80 and (+34) 609 33 00 56
Email: contacto@pazodelasaleta.com
Web: www.pazodelasaleta.com
Twitter: @PazodelaSaleta
Instagram: pazodelasaleta
Pinterest: Pazo de La Saleta
Facebook: Pazo de La Saleta